The Adsense unit format is changing again and 3 new text and url placements will come to play in a few weeks on the most popular 300×250, 336×280 and 728×90 px units.
The url has been placed aside the ad title in all these units and the Adsense team promises that CTR will improve with the new format. Here is what they will look like.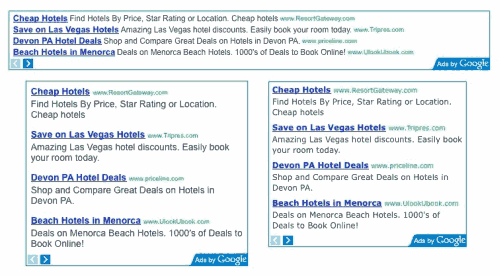 The leaderboard (728x90px) with four ads is much more readable and will provide an excellent CTR as I see it. As for the rectangles, optimization testing would again be needed to see what suits these ads as the url has come on the side and will interfere with title visibility.
I would really like the Adsense team to introduce the popular 500px and 550px wide ad units which is the popular content width of many blog and the ads will fit perfectly. We have spotted several strange Adsense ads over the years like ads with 2×2 ads, favicons, no titles, titles in italics and no Ads by Google and interactive keywords. Lets see how this will work out.
If you don't see the new ads right now, they will eventually roll over to your site in a week. Do you like the new ad formats? Share a comment.